Stoos
Mascot Fröneli
The young dwarf goat Fröneli is upright and incredibly nice. He loves to play with the children and experience exciting adventures with them on Stoos. Fröneli lives in the beautiful mountain village of Stoos with his family and all his friends.
Frönelis recommendations for families
Goat playground Fronalpstock On the Fronalpstock, right next to the top station of the chairlift is a large wooden playground, which was opened at the end of summer 2018. At the very top on a post sits a wooden sculpture of Fröneli. That is why the playground is also called "Goat Playground".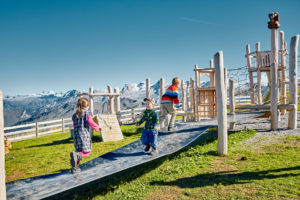 Frönelis Photopoint On the Stoosplatz at the top station of the funicular in front of the Stoos Shop & Rental there is a life-size figure of Fröneli with which you can take a photo. Here you can find more information.  Goat petting zoo Between the viewing platform and the summit restaurant, there is a Geissli petting zoo with several dwarf goats on the Fronalpstock summit in summer (between mid-June and mid-September). Here you can find more information.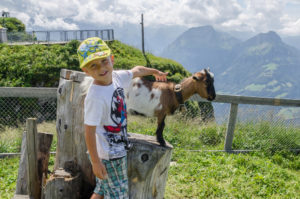 Around the Stoos there are various fireplaces & picnic areas. Here you can find an overview.
Looking for a hike that is walkable with a stroller? Here you will find all the stroller-friendly hikes on the Stoos.